A riddle: what is the only type of rock that a guy should throw at a girl? Drum roll please…why, a diamond, of course!
Of the many different types of proposals that you will make and receive throughout your life, nothing compares to the magical, exciting, life-changing proposal of marriage. So, I thought it might be fun to veer away from offering advice on things related to weddings, and share some fun proposal stories.
Whether you are knee-deep in planning your wedding and could use a fun distraction, or are in need of some ideas on how to pop the question, I know that you will enjoy these stories.
Casey and Merissa:
When I proposed to Merissa, we were at Lake Powell and had been boating all day. I ditched the ring with her sister so that she could bury it in the sand so that Riss wouldn't notice. My plan was to be on the water wienie and as we rode past the beach where the ring was, "Will you marry me" would be written in the sand. Well, she refused to get on the water wienie, but finally her parents were able to convince her to go on one last ride. Everything went as planned, and we swam over to the beach, I got down on one knee and she said, "Yes!". But, no sooner did we try to get back in the boat, when a biblical-sized storm came out of nowhere and started hailing and blowing like crazy. I'm not gonna lie, I was pretty nervous…not so much that we were going to capsize, but maybe that it was a sign, ha ha ha!
John and Lisa (who has since passed), but John remains very much in love with her:
I wrote, "Lisa, will you marry me" on her parents' flat roof, using Christmas lights. We then flew over it in an airplane.
Scott and Jennifer:
Scott and I were headed to England for my sister's wedding. Shortly after we arrived, he told me that he wanted to make a plan for the Monday after the wedding, something to do once the celebrations were over. I immediately knew something was up because Scott NEVER makes plans, ever. Even when asked to RSVP, Scott will respond just two days before! On a prior trip, we had briefly visited Howarth, the Yorkshire town where the Bronte sisters are from (I was an English major and ADORE the Brontes. When he said that he wanted to visit there again on this trip, I had a good idea that he was going to propose.
We arrived at Howarth and Scott walked me most of the way up this scenic hill, and while I tried to encourage him to the top because there was a handyman/painter in the window across the street watching us, my urging was to no avail and he took me up to the ancient brick wall, behind which is a view of the Yorkshire Moors. He pulled out a black felt box (but did not get down on one knee). He then asked, "What are you doing for the rest of your life? I responded, "It depends." He then asked if I would marry him and when I reached for the box, I managed to knock it out of his hand and into the gutter. When he retrieved the ring from the cobbled stone street and put it on my ring finger, I said "Yes!" We both looked over to see the handyman/painter outside watching the proposal. We just smiled awkwardly and walked away. In an effort to relieve the tension, I admired the beautiful wedding ring that was WAY beyond all my expectations (I had no input), and asked jokingly, "is it real?" To this day, Scott swears that this is was the first thing I said after he proposed.
We concluded the moment with lunch and prosecco under threatening clouds outside in a lovely little place in this tiny Yorkshire village. I ate the best French onion soup that I've ever had in my life, and we got some great photos of us with the ring.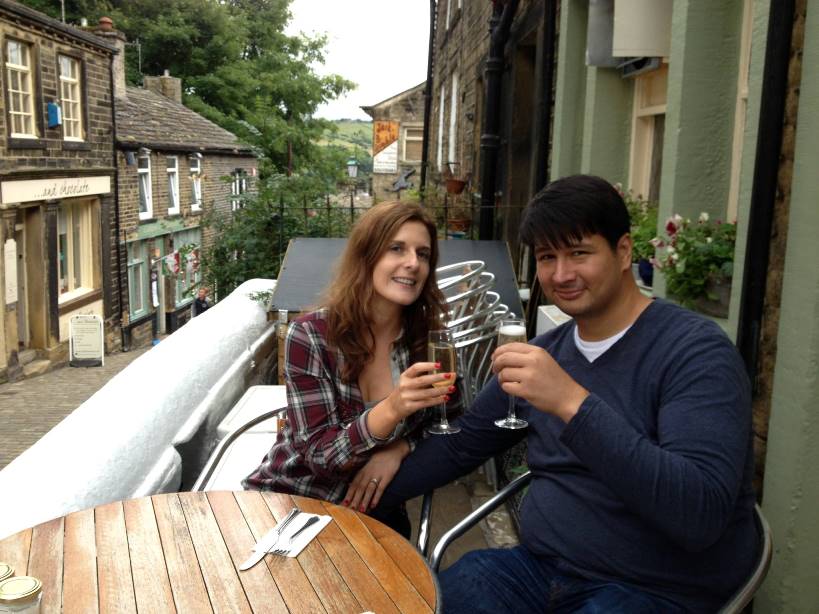 We would love to hear your story. Please post it in the comment section below.