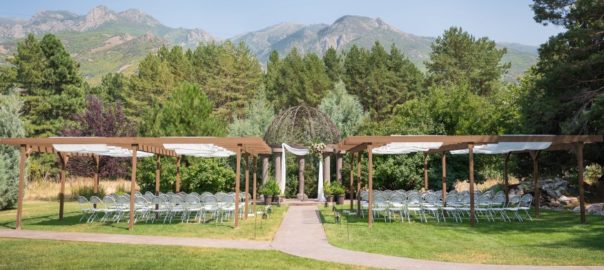 Oak Hills Reception and Event Center in Layton Utah is beautifully decorated and an ideal, picturesque venue for wedding luncheons, dinners and receptions.
Oak Hills Reception and Event Center, nestled quietly at the base of Adam's Canyon will take your breath away the moment you step foot into our beautiful wedding venue. Most couples choose our romantic Garden with the picturesque Wasatch Mountains serving as a natural backdrop for their ceremony, our Elegant Ballroom for their dinner, and our popular rustic chic Barn for their reception. We only host one event a day Wednesday-Saturday to ensure that each event has the highest quality customer service experience possible.
Oak Hills strives to make your wedding stress free, you just show up and enjoy your wedding! To ensure that your special day goes as smooth as possible, we provide in-house catering and bar services. In-house decor and coordinating services come built in with every reception package. We also offer in-house wedding cakes and florals that we encourage you to use, but you are welcome to choose a different florist or cake artist if you desire. We will handle all the set up, take down, staffing, and day of coordination.
Immediately upon booking, every client will love and appreciate the small touches that are not forgotten by Oak Hills Event Staff.
Come see why Oak Hills Reception and Event Center is the premier wedding venue in Layton, Utah.
Please mention Salt Lake Bride when you contact Oak Hills Reception and Event Center
Oak Hills Reception and Event Center
Average rating: 5 reviews
Jun 17, 2019
Our daughter's wedding reception at Oak Hills Reception Center was fantastic!
We recently celebrated our daughter's wedding reception at Oak Hills Reception Center. It was fantastic! Aleesha is Oak Hills' Manager and she was the best to work with. Anytime I sent an email, she replied right away. The communication was constant and comforting to know I could get questions answered quickly. Everything exceeded our expectations! We had a luncheon in the main building which was beautiful. The reception was in the barn and decorated so cute! I didn't realize they would have so many decorations out. The lights strung across the ceiling were a spectacular addition! It was wonderful to relax knowing Aleesha and Jessica were overseeing everything. There were no glitches at all as everything went so smoothly. This is a wonderful place to book your events. Great communication, follow through and a beautiful place. You'll be extremely pleased!
Dec 1, 2018
Beautiful Wedding Day at Oak Hills Reception Center
Aleesha was amazing. Oak Hills is a beautiful place. The barn is what my daughter wanted for her Rustic themed wedding. They had the same vision if not better of what we wanted in the look. With a mixure of decorations of theirs and ours, Aleesha put together a beautiful scene. Our guests commented on how beautiful the set up was. The rental price was very affordable. We didn't have to stress about what they were doing, which was a great relief. Thank you for making it a beautiful day for my daughter.
Jan 24, 2018
Extremely Satisfied with Oak Hills Reception And Event Center for our wedding venue!
We've used this place for our last two weddings and referred our friends here. All have been extremely satisfied! They go above and beyond your expectations to make your special day one to remember.
Aug 21, 2017
I highly recommend Oak Hills Reception and Event Center for your wedding venue.
Our family had an incredible experience working with the facility and staff, specifically Trisha, to plan and organize our daughter's wedding. They offered so many great options for decorating. Callie and the rest of the staff worked tirelessly to make our reception turn out perfectly. The combination of the indoor and outdoor venue gave us so many options. I highly recommend Oak Hills Reception and Event Center.
Jun 21, 2017
Overall everything was great and I loved my wedding at Oak Hills Reception And Event Center.
Trish, Kylie and the rest of the staff were just wonderful!! I had my wedding here on June 10th and it was everything I've ever dreamed about. We had the ceremony outside under the gazebo and it was decorated beautifully. Then the reception was right after in the barn and that was just as beautiful. The decorations were right on point! Everything was done exactly the way they said it would be. The treats we had were delicious and looked beautiful, thanks to the wonderful cook Teresa and her staff! I also had my cake done by one of the staff who has her own little business. It was just as beautiful as I imagined it to be. It was also one of the best cakes I've ever had! Overall everything was great and I loved the whole thing! Thank you to the amazing staff and all their time and effort they put into my wedding!