Your wedding dress is arguably the most important detail of your big day. It's what your man will drool over and what your friends will dream about. You know what they say, "there's real power in heels and a good dress." But how can you make sure your wedding dress fulfills all of your princess dreams?? Where should you even start? Here are some things to consider when shopping for your perfect look.
Body shape: You and your body are unique, and because of that you deserve a unique dress that accentuates all of your beauty. Not every dress has the ability to do that though, so your first step is defining your body type. Are you a triangle or an hourglass? Are you tall or short? Your body type will lead you to the dresses that will look the best on you.
Dress style: Are you traditional or eccentric? Conservative or bold? Do you want a dress with sleeves or one that is strapless? Train or no train? Whatever the dream, there is a dress for you. A ballgown style and a mermaid style, while both beautiful, are very different. Be sure you know what aesthetic you are trying to achieve.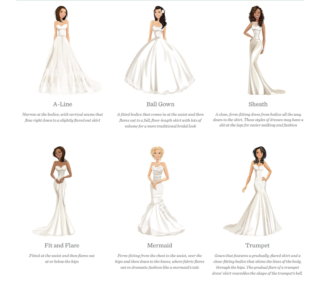 Venue: Though you may have had a dream dress in mind for a while, it's important to look at the location that you are getting married in. That either means that you have to match the venue to the dress or the dress to the venue. You may look stunning in a figure hugging mermaid style gown, but it might become a bit of a hassle when getting married on the sandy beaches of the Bahamas.
Dress Color: When you think of wedding dresses, it is easy to immediately think pure white. But hey, who says you can't let your imagination run wild. Don't let tradition hold you back if tradition is not what you want. And FYI: there IS a difference between egg-shell and pearl.
Dress details: Beads, lace, and buttons, Oh my! Do your research! Pinterest has endless ideas. What do you like? What don't you like? Make a list. This will make the process easier and quicker and it'll help you narrow down your options. Also, be sure to consider the practicality of it all. If that lace is rubbing against you wrong and giving you a rash…don't get a dress with lace!
Comfort: We all know that style is important when picking out that perfect dress, but it's also good to consider how comfortable it is. We're not saying that it has to feel like your favorite pair of pajamas, but you should definitely feel both comfortable and confident throughout the whole day.
Accessories: After you find your fabulous dress, start trying on those heels and veils. From head to toe you want to shine and the way you accessorize will add a large impact within a few small details. One additional bracelet or earring style could completely change the style of your look so it's important to choose wisely.
Throughout any wedding dress buying process it is important to listen to the professionals and keep in mind where you want your price range, who you want there with you, and be sure to start the process early so there is time for alterations. And above all, keep an open mind! Who knows? That dress you thought you would never even pull off the shelf could just end up being "the one". While it can be stressful and it is a big decision to make, shopping for your wedding dress is a once in a lifetime experience. Enjoy the process!! I mean, how often is it that you get to play dress-up??
Tell us about your wedding gown selection process –