For many brides, a traditional veil may not be what they are looking for or it may not be their style. The good news is that there many options today for different styles besides a traditional veil. Here are a couple of our favorites.
Boho Brides- For those brides who are wanting to have a more boho wedding and style consider wearing a hat. You could keep it simple or add pearls, jewels, or flowers that match you wedding. You could add a veil with the hat or just wear the hat!
Simple Brides- Sometimes a veil can be too much and isn't something you may want to deal with. If you are going with more of a simple style or laid-back wedding, you could consider choosing not to wear a veil. It can bring more attention to your dress or your hair and makeup. It's a simple way to keep thing elegant without a veil.
Unique Brides- For the brides that want to add a fun style and a different detail instead of the veil, try a headband. Headbands range from small and simple to big and sparkly. Choosing to wear a headband you can really make it your style. Headbands come in so many different styles and great to keep it unique to your style.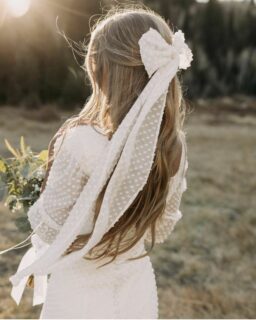 Creative Brides- For the brides that want to have a more creative wedding with personal touches, adding a bow instead of a veil is a fun way to show your style. You could go with the traditional white or pick a color that you love or that goes with your wedding colors. You could pick a bow with detailing on it or one that is a simple satin. The possibilities are endless!