You want to plan the very best wedding, but you can't decide what theme you want. A wedding theme is something that sets the tone for the big day, it's a very big decision, but don't stress, there are many themes you can choose from to make your big day exactly how you want it.
Here's a list of 10 different wedding themes you can choose from for your wedding:
Romantic: Involves soft hues and soft lighting. Has a lot of floral arrangements, and hanging lights. Calligraphy for the invitations and flowing dresses.
Modern: Clean lines and minimal design. A modern design is all about simplicity. Has different patterns while still looking sophisticated.
Rustic: String lights, mason jars, twine, lace, all contributes to the rustic feel. If you like it simple, a rustic wedding theme is just for you. You can also pull off this theme by doing DIY for many of the decorations, how great is that!
Garden Party/Casual: This theme is more intimate and casual. Being outdoors creates a laid-back style for your wedding. Just make sure you plan accordingly to the weather.
Bohemian: Cool and carefree, but still beautiful. This is for the boho-brides. The venue decorations are things like oriental rugs, decorative pillows and macrame decorations. Bouquets are usually wild arrangements.
Formal/ Traditional: This would be considered a "black tie wedding" meaning it's very clean cut. The venue is filled with whitewashed decor and the floral arrangements are not wild but very put together.
Alternative: Having an alternative theme wedding means that your style is unique and doesn't fit with the other themes. You can choose what you want even if it's totally unheard of. It's your wedding!
Natural: This theme is very green and earthy. The color scheme mainly consists of white or ivory. Plants are usually the center pieces of the table and this theme looks best in an outdoor venue. There is also a lot of wood involved, whether it be the tables or the decorations.
Retro: This is all about creating your theme to feel as if you went back in time. This consists of a bright color scheme. You can also include certain throwback details such as coke bottles as the drinks or a record player.
Whimsical: Bright colors, bohemian components and balloons are just a few things that make up this theme. It also can involve a lot of nature, mismatched bridesmaid dresses, thrifted items and maybe even a photo-booth.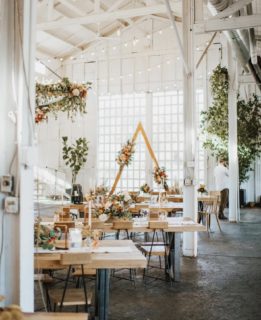 Photos @whiteshantyvenue
Leave a comment and tell us about your wedding theme –